Say hello to your workspace
Now that your account is setup and ready, let's introduce you to the star of the platform, where all the magic happens—your workspace.
The AI-powered workspace auto-prioritizes, segregates, and moves your documents for you. We ensure there's no paperwork for you to manage on DocuX, just paperwork for you to take action on.
This is what your workspace would look like: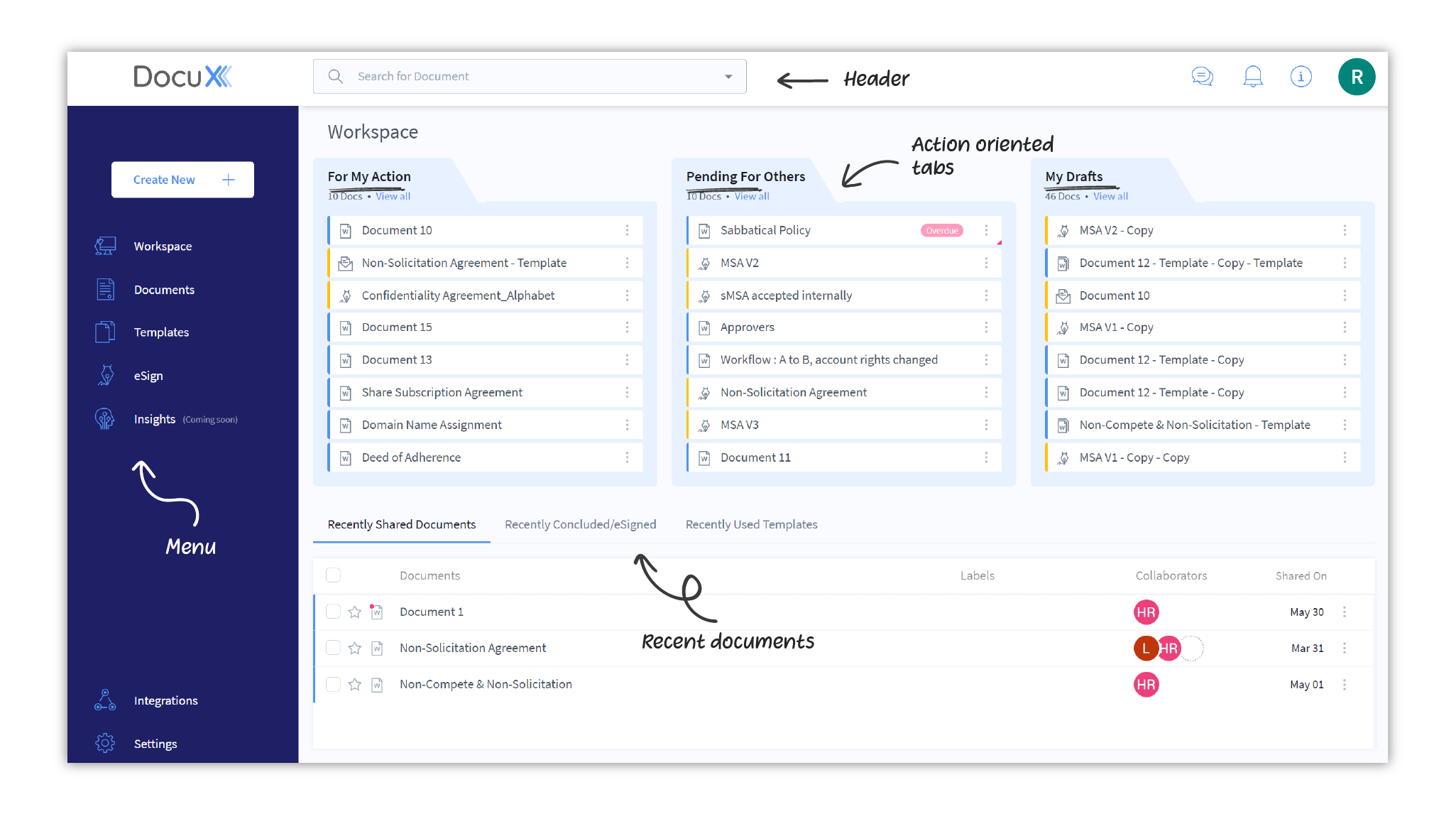 Let's walk through the main elements of the workspace.
Header​
The header bar at the top of the workspace has these key features:
Search : A smart search bar that you can use to search for any document in your account by:
Document name
Owner
Collaborator
Description
Last modified
Document type
Chat : This is the main chat panel. Use it to message any internal or external contact or collaborator.
You will also find chat options within documents and eSigns that can be used for contextual messaging.
Notifications : Includes document, esign, and system notifications.
You will receive notifications for documents and esigns you own or are a collaborator on. System notifications notify you about profile and password changes, upcoming maintenance updates, platform-wide announcements, and more.
Keyboard shortcuts : Lists all keyboard shortcuts you can use on DocuX.
Profile: Includes quick links to:
Edit your eSignature
View and edit your active subscription plan
Change your password
Change your profile picture
View and edit your profile settings
Logout of DocuX
Menu​
On the left of your workspace is the menu. Use it to navigate to the other tabs on DocuX:
Documents
Templates
eSign
Insights (coming soon)
Integrations
Settings
Action-oriented tabs​
These three tabs keep you updated on the documents and eSigns that need your attention. Note that these tabs are not scrollable in the workspace and display a maximum of eight documents. To see all the documents or eSigns within any of these tabs, click on View all.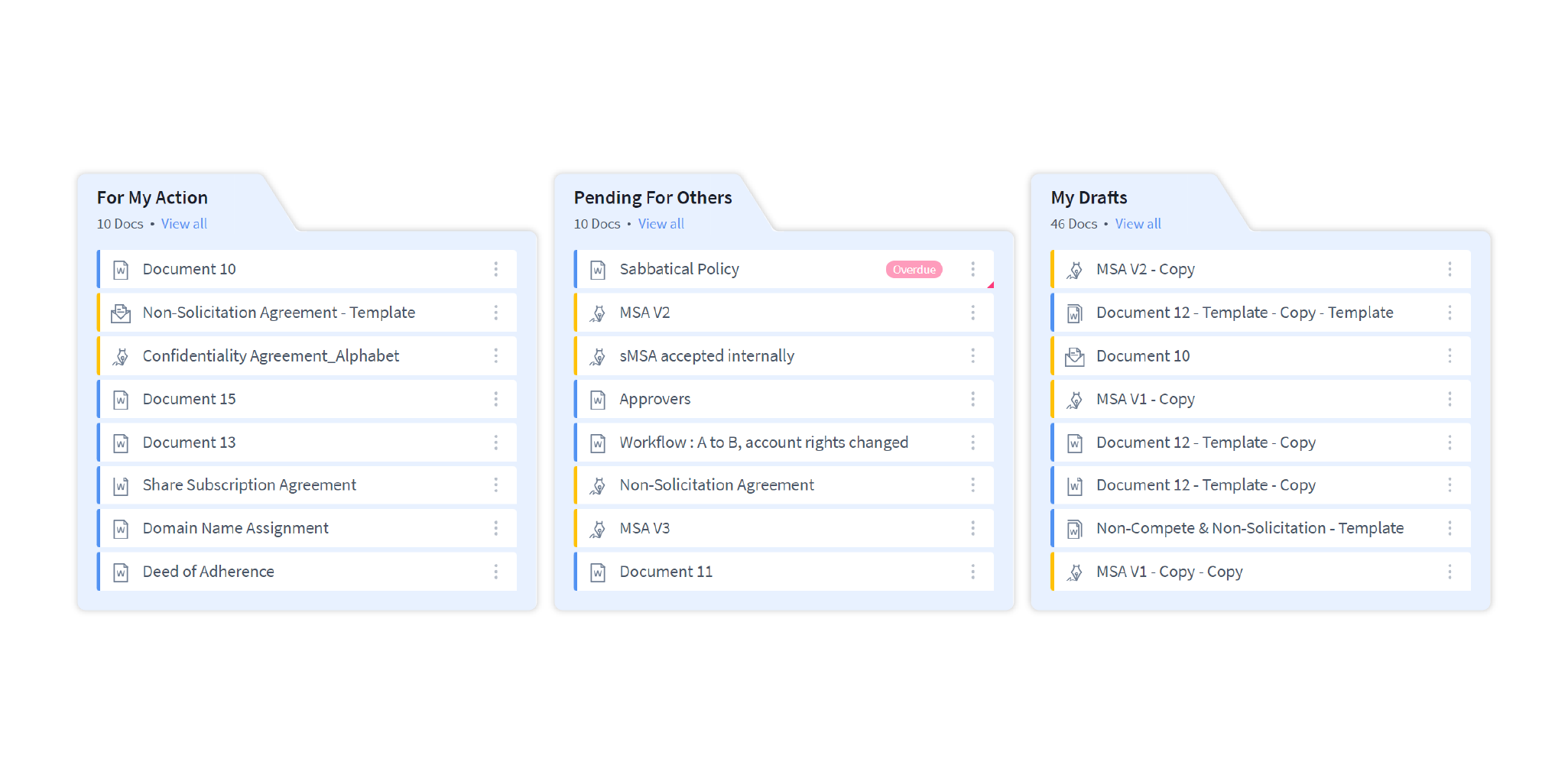 For Your Action: The most important tab. It lists all the documents that you have to take action on.
They can be documents that have been released to you as a collaborator, documents that need your approval, contracts that need your eSignature or input, etc.
Pending for Others: This tab lists all the documents that you own or a collaborator on that are pending with others—this means they need to review, approve, eSign or decline.
You cannot make changes to a document that is pending for others. To make changes to a document that you own that has been assigned to and is pending with someone else, you will need to recall it first.
My drafts: Lists all your recent drafts for quick access.
note
Documents move between tabs and to other sections of the website depending on the actions taken on them.
Only one person can edit a document at any given point in time on DocuX. Other collaborators can view, chat, and comment, but can't edit. This is to ensure accurate versioning and a strong audit trail. See how collaboration works on DocuX to learn more.
Recent documents​
These tabs in the lower half of the workspace list your most recent documents for quick access and reference. They include: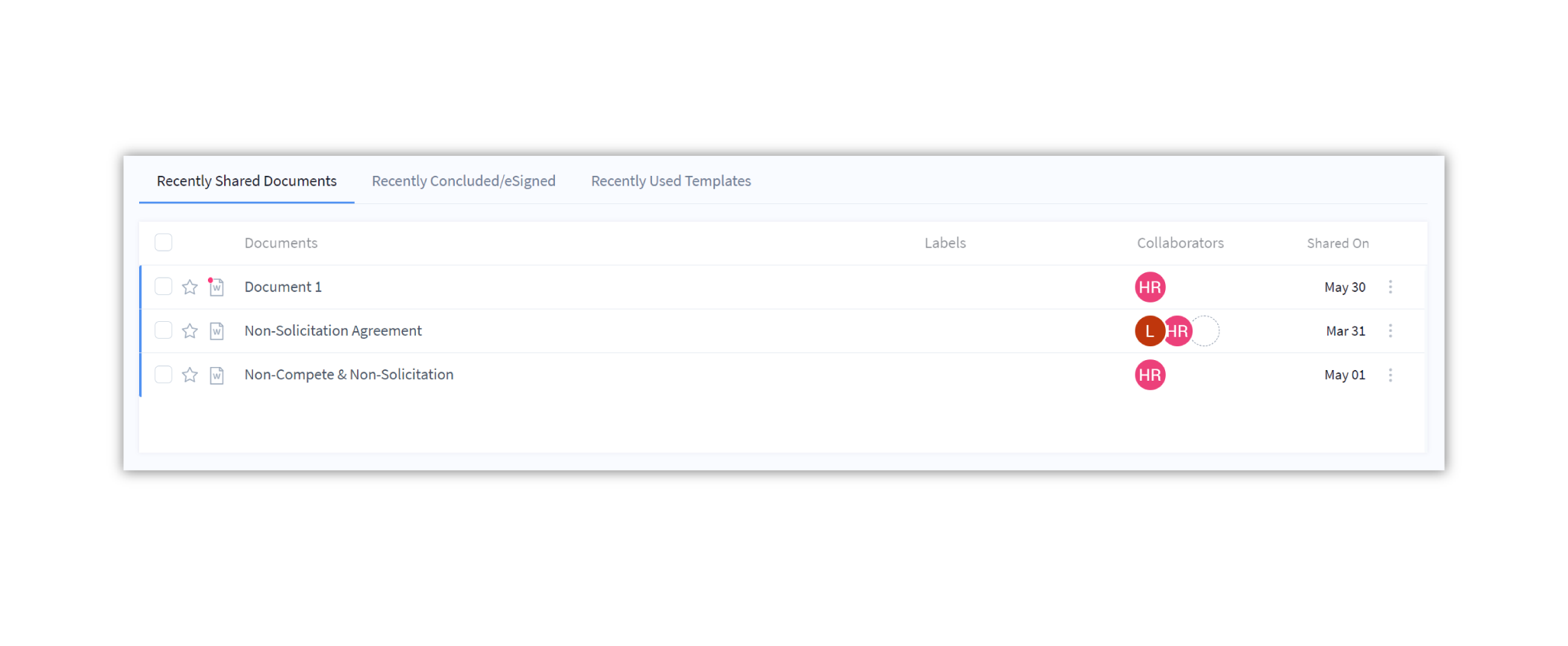 Recently shared documents: Documents that were recently shared with you or by you.
Recently concluded / eSigned: Recently concluded or eSigned documents that you owned or were a collaborator or esigner on.
Recently used templates: Templates you have used recently.