Create your first document
The way DocuX manages, sorts, and prioritizes your documents behind the scenes could not be more different from the simplistic way conventional document systems such as MS Word and Google Docs do it.
However, we wanted to ensure that there was little to no learning curve for our users. This is why creating and editing on DocuX works just the way you are used to.
This is what the Documents dashboard looks like on DocuX: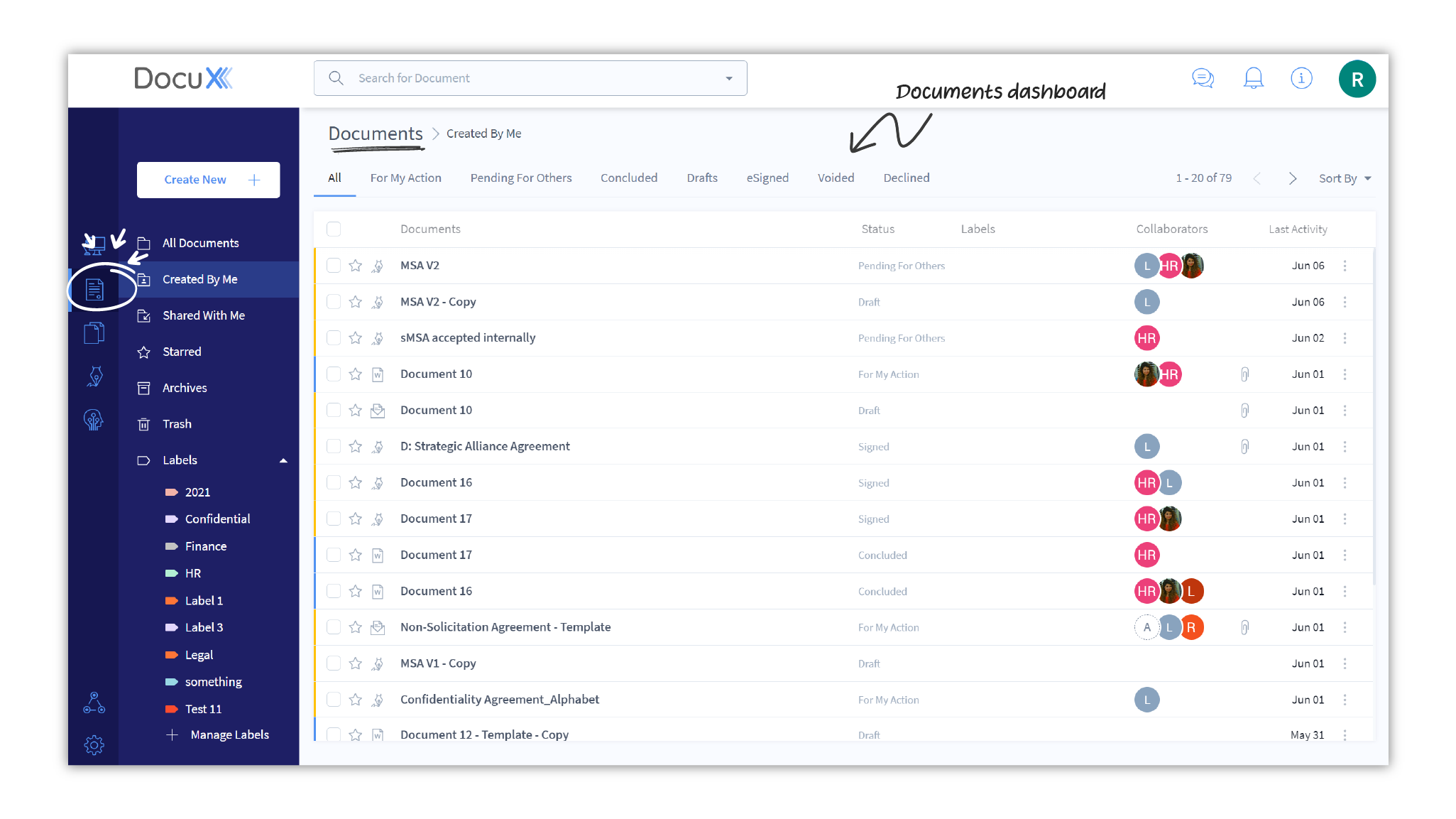 Create a new document​
To create your first document on DocuX:
Click on the Create new button in the menu and select Document.
You can choose to start by:

Uploading a document from your device or from cloud storage (i.e. Google Drive, One Drive, or Dropbox).
Cloning a recent document you have created on DocuX.
Using a template you had created on DocuX or.
Using a blank document.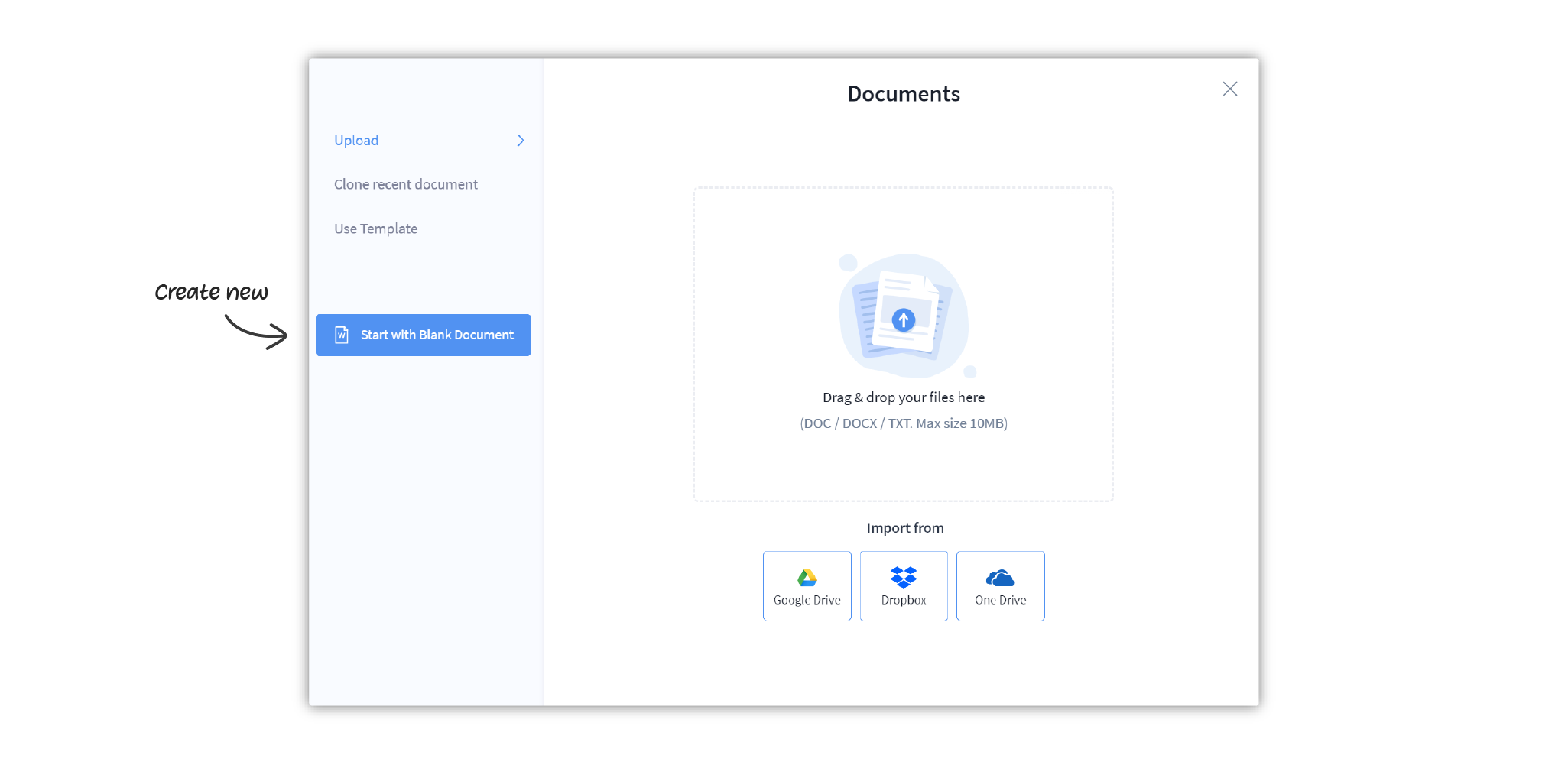 Because this is your first document, you could choose to start with a blank document to get a feel for how things work on DocuX.
Write and edit​
The document editor on DocuX has little to no learning curve if you have used MS Word or Google Docs in the past.
Once you create a document as shown in the previous step, the editor will open up. You can start writing right away.
Collaborate and more​
The DocuX document editor may look very similar to MS Word or Google Docs, but gives you way more control and automation capability than both of them combined.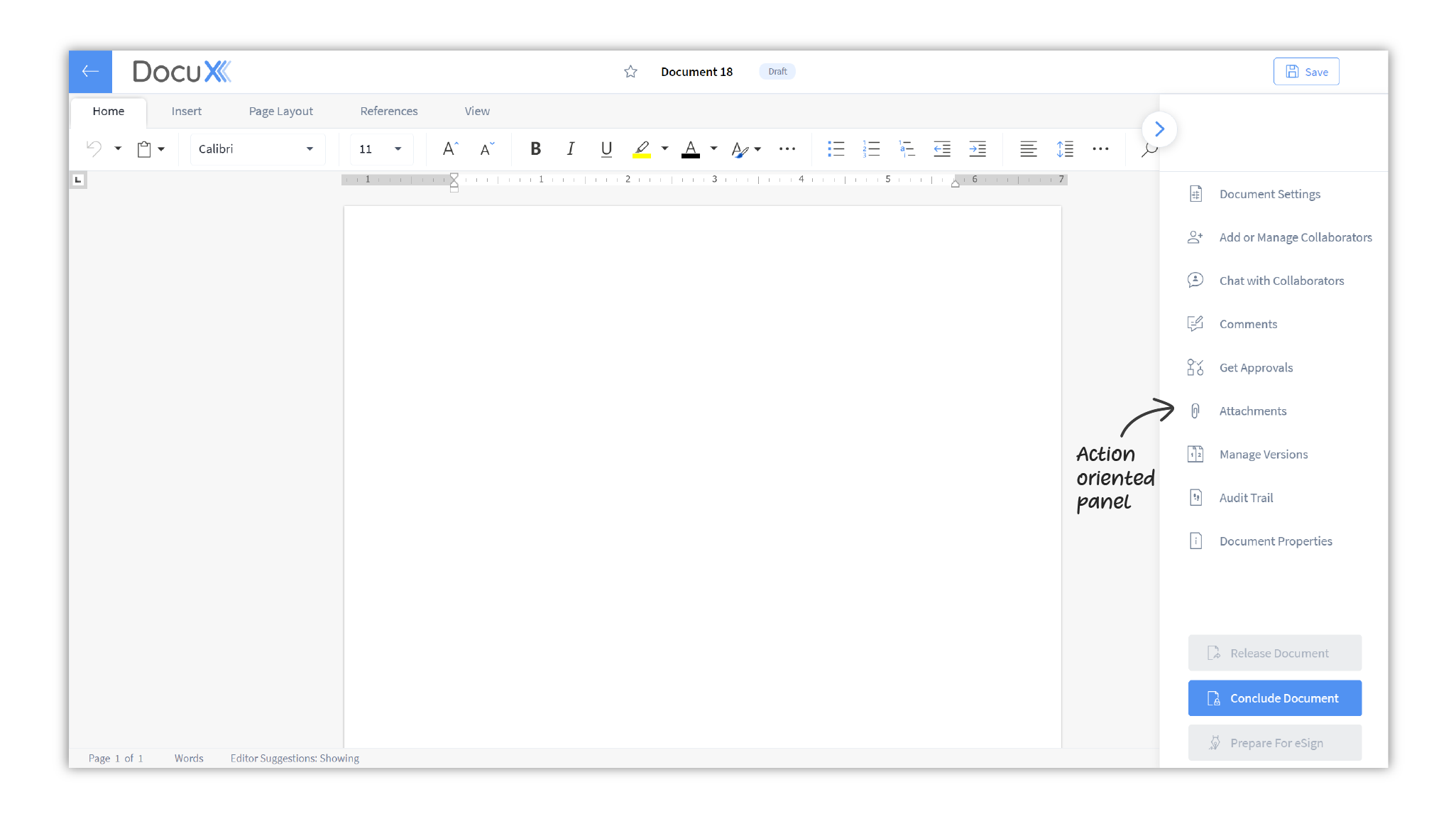 Click on the arrow at the right of the document editor to open up the action panel on the right. Here's what you can do here:
Document settings: Choose what permissions you want to give to any collaborators you add to this document. Set passwords if your document contains confidential information.
Collaborators: Add internal or external collaborators on your document and give them comment or edit access.
note
Collaborators will be able to view, comment, and chat on the document once they are added. However, they can only make edits after you release the document to them.
Chat with Collaborators: This chat is contextual with regard to the document. You can chat individually with a collaborator, with a subset of the collaborators via Channels, or publicly with all collaborators.
Comments: This tab maintains a history of all open and resolved comments added to the document.
Approvals: You can set approval workflows here and they will be executed automatically once you conclude the document.
Attachments: Add supporting files to the document here. Any added collaborators, approvers, and eSigners will be able to view them.
Manage versions: View and compare different versions of the document and changes made. Restore a previous version if required.
Audit trail: A systematic trail of all changes made to the document, including addition or removal of collaborators, changes in document ownership, views on the document, and more.
Document properties: Descriptive details about the file including its creation date, owner, status, collaborators, attachments, labels, etc.
You can take the following actions on your document:
Conclude: which denotes the document is completed.
Release: send it to a collaborator to review and make changes.
Prepare for eSign: add esigners and get the document eSigned.